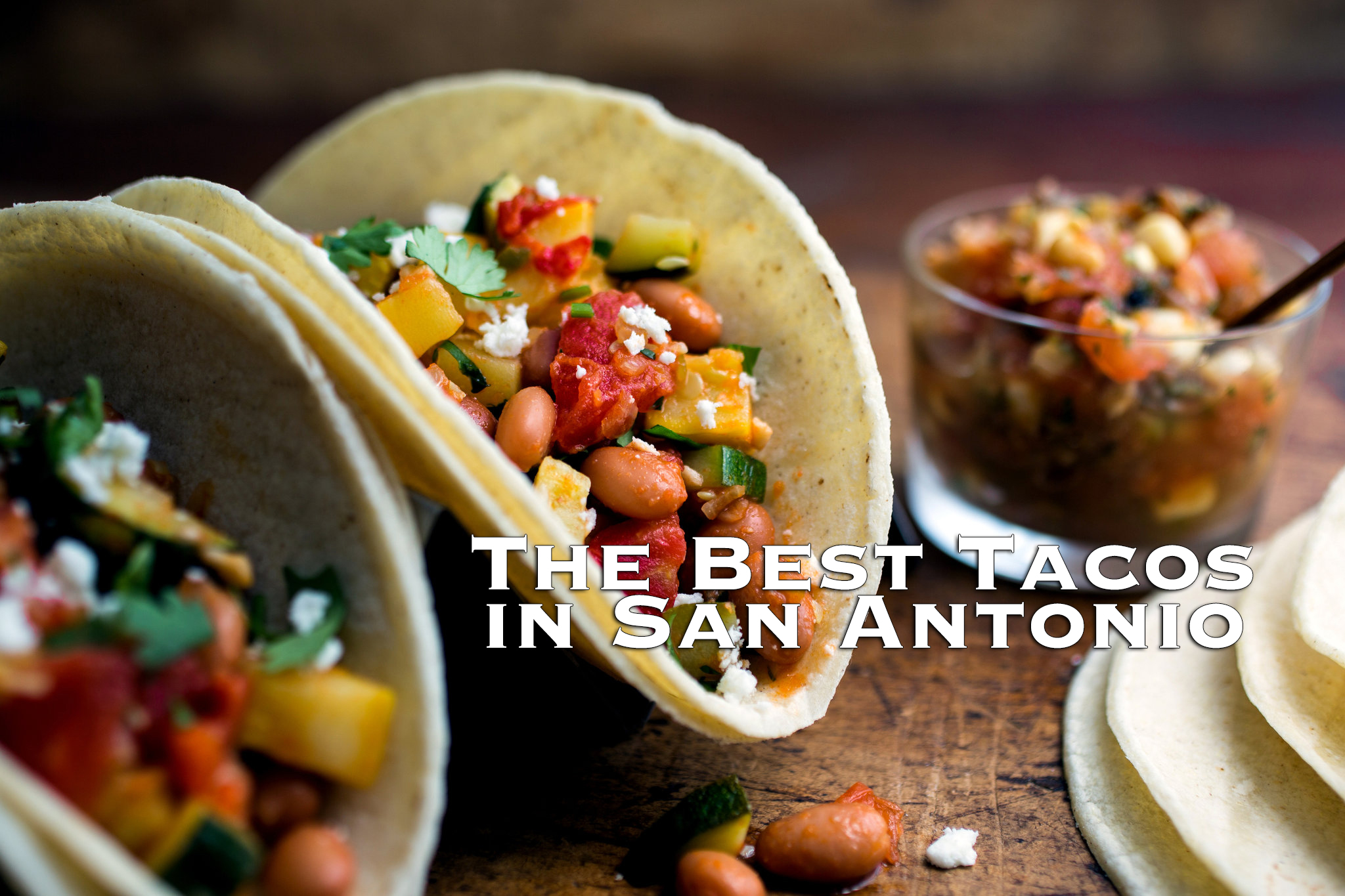 While it is not known for sure how or when the taco was originally created, we do that San Antonio was the first place in the U.S. that the taco surfaced.  It was first introduced in San Antonio by the Chili Queens in the late 1800s.  They set up make-shift food stands in the city's plaza each night to sell to visitors and locals. With this kind of legacy, there is no doubt tacos in San Antonio are some of the best in the country.  And with so many to choose from, how do you know which ones to try?  We've picked the best tacos in San Antonio.
The Original Blanco

Café
Located near the famous Alamo, Blanco Café is best known for its enchiladas.  However, this place definitely has some of the best tacos in town!  The carne guisada taco is loaded with beef tips smothered in brown gravy and served in a flour tortilla.  Top it with shredded cheese and salsa verde for a culinary treat.  419 N St Mary's St.
Mi Tierra

Café

and Bakery
A trip to San Antonio's El Mercado is not complete without a stop at Mi Tierra which is open 24 hours a day.  The atmosphere is festive, the margaritas are good, and this is the place to get the best beef fajita taco in town.  These tacos are made with fresh beef that the kitchen actually butchers itself and served on warm, homemade tortillas.   218 Produce Row.  
Ray's Drive In
If you haven't tried a "puffy taco", you are in for a real treat at Ray's Drive In.  While many restaurants now serve a puffy taco (the tortilla is creased in the middle and deep-fried so that it puffs up), this is where it all began.  And Ray's has the trademark to prove it.  While you can't go wrong with any of the puffy tacos, the simple Avacado Puffy Taco is hands down the best. 822 SW 19th St.
Teka

Molino
Teka Molino is a San Antonio staple for over 70 years. They perfected the chicken puffy taco.  The combination of the crispy puffed shell and simmered-to-perfection chicken easily makes this one of the best tacos in San Antonio. Make sure to order a side of their famous guacamole cup to go with it.   7231 U.S. 281 Access Rd.
Rosario's
Rosario's has the best fish tacos in town! The grilled tilapia tacos are served with chipotle mayo, cabbage lime slaw, pickled red onion, and avocado.  Top it off with Rosario's fresh salsa made from charred jalapenos for a tantalizing treat.  The grilled shrimp version of this taco is also out of this world.   910 S Alamo St.
Chela's Tacos
Chela's Tacos started out as a food truck and while it's truck can still be found around town, there is also a restaurant. With freshly made tortillas and all the fixings, the creamy cilantro chicken tacos are without a doubt some of the best tacos in San Antonio!  The food truck can normally be found at the southwest corner of UTSA Blvd. and Roadrunner Way, in front of the Roadrunner Bookstore or you can visit the restaurant at 5231 Broadway St #117,.
Taco Taco

Café
Not only is Taco Taco a local favorite and rated "Best Tacos San Antonio",  but it was featured on Guy Fieri's Diners, Drive-Ins, and Dives. It was also deemed to have "The Best Tacos in America" by Food Network's Bon Appetit.  This place serves up a mean taco any time of day, but the breakfast tacos are the best.  They are all made to order using fresh ingredients. The bacon and egg taco topped off with salsa freshly made with roasted tomatoes and chiles de arbol is the best!  145 East Hildebrand Ave.
These are our top picks for the best tacos in San Antonio. What do you think? Where are your favorite tacos in San Antonio? Let us know in the comment section below! Whether you love soft tacos, puffy tacos, hard shell, fish, beef or bean – taco lovers can have just about any flavor they want in San Antonio. Stay tuned for all things taco in San Antonio plus great content about eat, shop and play right here!